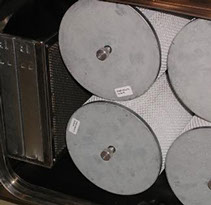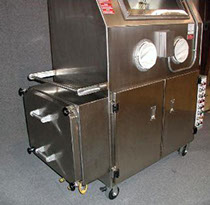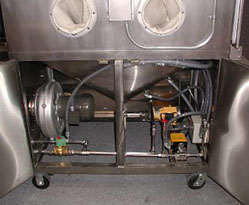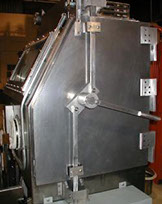 CABINET SUMP WELL
WITH DISCHARGE PUMP
AND VENTILATION FAN
HEPA FILTER BANK
AND MOISTURE
SEPARATOR FILTERS
Each module can be used independently, or they can be joined together in a matter of minutes. Only two connections are required to form a powerful, totally enclosed mobile decontamination booth. The two modules consist of:
1. An all stainless steel decontamination cabinet with built-in HEPA ventilation
2. A separate high pressure, high temperature hydrolaser module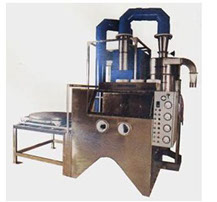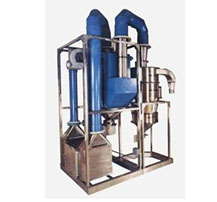 60X60" DRY MEDIA DECON CABINET
WITH FEEDER TABLE AND
NUCLEAR GRADE FILTERS
HIGH EFFICIENCY "AIRWASH" RECLAIMER WITH DUST COLLECTOR AND "BAG-IN/BAG-OUT" HEPA
All BlastPro"" Dry Media Decontamination Booths are constructed of polished stainless materials, and are 100% seal welded using the TIG process. All structural members are constructed using tubing to minimize potential contamination traps, crevices, or other similar ledges. Automatic air operated guillotine type vertical drop pocket doors provide a negative air pressure when lowered, and an air cylinder operates a positive sealing mechanism. Our exclusive "Bank Vault" style rotating cam Locking Doors are also available. Convenient product handling options can include automatic feeder tables, automatic turntables , and ergonomic operator stations with elevation controls. Our BlastPro"' Dry Media Decontamination Booths can be custom designed to meet any particular customer need. They have been designed to handle dry glass bead media, plastic media, aluminum oxide, or most any other dry media.
All BlastPro"" Decontamination Booths are supplied with high efficiency adjustable "Airwash" classifier style 'Flow Media reclaimers and nuclear grade dust free 4-stage filtration systems. The Filtration Package includes the Cyclone Reclaimer, a high efficiency pulsing cartridge prefilter bank, and an ASHRAE Pleated Medium Final Prefilter and nuclear grade HEPA Final Filter provided in a "bag-in/bag-out" filter housing.
BlastPro"' Decontamination Booths and "Walk-In" Blast Rooms can be used with a variety of blast media, and our multiple gun designs include both pressure driven and suction driven options, as well as automatic machines such as "Tumble Basket" Units.